Found one interesting video - how to replace fuel filler pipe. Actually I did change of almost all metalic parts to rubber parts instead. Here will be some note about this in the end of the post.
But, as I said, I changed those to rubber pipes instead.
I have just 2 parts of metal in my filler pipe - around 20 cm at the beginning, where you put fuel pistol and approximate same size where the fuel valve is located.
Unfortunately I don't have many photos of the process, but this is how it looked when I removed fuel filler cover from my recently bought car:
These parts I cutted off. Really bad photos:
And these were replaced with rubber pipes.
Following sizes and approximate length are needed (to be honest I don't recall the exact length, it is better to do the measurements by yourself):
Inside diameter 32 mm, length around 130 cm
Inside diameter 16 mm, length around 130 cm
And here parts are already replaced:
I didn't made any photos of my new fuel pipe, but here is the example just I used another rubber pipes:
And, don't forget to change fuel filter in the fuel tank!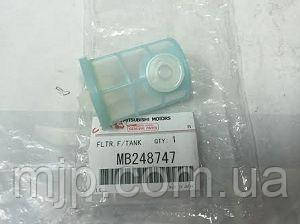 Part number: MB248747

If any questions, just write in comments ;)

P.s. This is the part which should be replaced if there is any sign of rust. Otherwise all these small rust parts are coming into fuel filter and that will cost a lot of money later... These parts are so small that fuel filters cannot stop these.

2019-10-13 15:40:14 Tags: fuel pipe mechanical Page: How-To Comments: 0